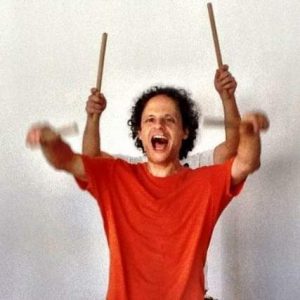 Nikos Souliotis founded (2015) and is in charge of the first group and eponymous school of Japanese (Taiko) percussionists ATENE DAIKO – THE DRUMS OF THE SUN in Greece in collaboration with sensei LIZ WALTERS.
He has been studying Taiko since 2013 in Athens, London, Japan and Hamburg with some of the greatest teacher-sensei worldwide: LIZ WALTERS, KURUMAYA MASAAKI, ART LEE, MASARU TSUJI, EIICHI SAITO, SOJI KAMEDA, PJ HIRABAYASHI, SHOGO YOSHII, JONATHAN KIRBY, FUMI TANAKADATE, BRUCE MUI GHENT .
At the same time, he works as a traditional and ethnic percussion musician in Greece and abroad, as well as a teacher of rhythm and percussion since the late 1990s.
The method he follows in his teaching is based on his many years of experience and, among other things, his study (2005-2013) of Rudolf Steiner's Waldorf pedagogy.
Has studied:
~ Brazilian, Indian, Greek-Mediterranean etc. percussion in a series of seminars and courses, with teachers such as Ravi Magnifique, Lefteris Mitropoulos, Nikos Darilas, Vangelis Karipis, Glen Velez, Okay Temiz etc.
~ Byzantine and Traditional music, as well as Traditional Greek dances at the schools of Simon Karras 1999-2001 and Tassos Fotopoulos (Greek Arts Group, 2007-2009).
~ In 2017-2019 she studied healing singing (the method developed by Valborg Werbeck-Svärdström) at the School of Uncovering the Voice, known internationally as "The School of Uncovering the Voice"
He was a member (2013-2019) of the artistic animation group "The Angels of Joy" which is active in Children's hospitals as well as in Elderly Care Units and other Institutions for children and the elderly with special qualities.
Since 2008, he has been a member of the Board of the Association of Friends of Waldorf Education.
" I started teaching Taiko intending to introduce people around me to this style of drumming, as the Japanese approach percussion in a holistic way, with a very deep and broad background and ethos, which addresses the head, the heart and at our ends. Completing our ancestors: Mind healthy in body and soul healthy".